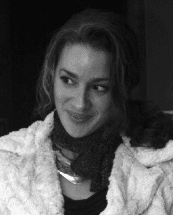 "Texture and wandering eyes on a defined area. My guideline is the ground that results from successive layers of acrylic and oil applied with the knife. From this overlay faces and symbols emerge, which I push forward into figuration or keep free as an abstraction. I seek to suspend time while imposing my work life and movement through colors, forms and texture. Journey and meditation.
The whole of my work is influenced by the background I have received in fashion and interior design—hence the nod at kitsch and my tendency to imagine sets for which to paint. In both cases, I fully embrace the importance of aesthetics in the making of each work.
I tend to focus on the idea of the woman, her paradoxes, strength and fragility. Yet I also enjoy creating spaces within landscapes that border on abstraction, unless abstraction becomes self-sufficient."
Stephanie Gevrey's practice begins in the materiality of the pigments. She paints on a rich ground created by successive layers of acrylic and oil applied with the knife. This background is left intact or washed with a large brush until reaching a leather-like texture.This surface grows into expressive, textured abstractions, or slides toward the theme of the woman–actual, historical or mythological, sometimes idealized, sometimes protected, occasionally humoristic, with her dreams and fantasies accentuated in an elegant kitsch.
Finding her inspiration from personal experiences in conjunction with the study of foreign cultures, her paintings at times transforminto landscapes flirting with abstraction, like a jewelry box containing at once gold leaves, space and time. Gevrey plays with with the limit between realism and abstraction, the ancient and the contemporary, strength and fragility, with always the wish to provide the viewer with a vast territory open to interpretation.
Stéphanie Gevrey was born in 1969 in Montreal, Qc, Canada. Her academic path includes fashion design (LaSalle College, 1999-1992), interior design (Artisans du meuble Québécois, 1998-2000) and visual arts (UQAM, 1996-1999). Growing up in an artistic family, her natural inclination for painting enabled her to develop an artistic vision that combines theoretical knowledge with a sensual approach to technic and materiality. Her work has been exposed in Canada, United States and Europe (Montreal: Galerie Griffintown / Toronto; Pacific Gallery / Saskatoon; Las Olas Gallery/Miami; Musée d'Anselbourg) and her works figure in many private and corporate collections (Catherine Zeta-Jones, Bid.com, Intra-West, National Bank Toronto). Stéphanie Gevrey lives and works in Montreal.
Source: stephaniegevrey.com